Saturday, March 24, 2018, 8:11AM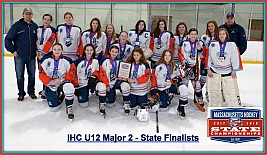 U12 Tier II-1718
congratulations to the IHC U12 Major 2 Team
17-18 season U12 tier II State Finalist


EARNS BID TO NEW ENGLAND REGIONAL TOURNAMENT
State Tourney
Took Second Place in Final Championship Game vs Wizards

26 Goals for - 4 Against for weekend

Earned bid for State Reginal Tourney in NH


Season Highlights:
80% win percentage
+70 Games Played Per Season
Over 200+ goals scored during season
Ranked 4th in USA for U12 Tier II teams
Saturday, March 24, 2018, 8:09AM

North Andover, MA – The Islanders Hockey Club is proud to announce that Premier Defenseman Hunter Lyonnais has officially committed to the Post University Hockey Program for the fall of 2018.


Lyonnais a native of Lake Worth, FL has had an outstanding career with the IHC Program. Lyonnais had a fantastic final season with the IHC as he racked up 5 goals with 19 assists for 24 PTS in 40 regular season games followed up with 1 goal and 6 assists for 7 pts in 10 playoff games.


"He's a very dynamic skater that loves to get up in the play on the rush and has great hands and sense for setting up goals especially on the power play." Said IHC Premier Head Coach Tim Kyrkostas. "I really enjoyed all the years that I have gotten to coach and work with Hunter, he was a player that played for me down in Florida and he followed me up to the IHC. Post is getting a player that I believe will continue to have success at the collegiate level based upon the tools that he has" Added Kyrkostas.


"Playing for the Islanders Hockey Club over the previous two years has helped me develop as a player and a person. I can't thank everyone enough my time here has ultimately helped me achieve my goal of playing NCAA College Hockey. I would like to thank Coach Tim Kyrkostas, & Coach Peter Wallack and of course my Mom and Dad for helping me achieve my dream." Said Lyonnais.


The Islanders Hockey Club would like to congratulate and wish Hunter and his family the best of luck with his collegiate career. The Islanders Hockey Club will be holding their first round of tryouts with their open camp April 20th – 22nd for more information please click on this link - https://islandersusphl.sportngin.com/register/form/589138725
Saturday, March 24, 2018, 8:08AM

North Andover – MA,
The Islanders Hockey Club and the NJ Rockets Hockey Club are proud to announce that goaltender Michal Soustal, Prague Czech Republic, has officially committed to play his NCAA college hockey at Saint Anselm College next fall.
Soustal who started the year with the NJ Rockets was sent back to the Islanders Hockey Club on January 1st by Head Coach Jason Kilcoyne to help him be in a better position to play more. IHC Head Coach Tim Kyrkostas explains – "We had just lost both of our goalies within a 24 hour period – first Eric Morrissey was lost to a season ending hip injury and then Ben Nelson was summoned early to begin his college career at Norwich University which left me without a goalie. Jason called me on the very same day as us losing Ben to ask if we would want to take Michal back as he had three number 1 goalies that all could benefit from cutting down to 2 and Michal being a 97' needed to go somewhere to play more. This kind of open conversation shows just how the coaches in the USPHL Premier work together to help the players reach their ultimate goal of advancing to the NCAA Ranks."
The Islanders Hockey Club therefore fit the home that Rockets Head Coach Jason Kilcoyne was looking for to move Michal and the IHC Premier Team certainly benefited from Michal returning back to the IHC where he started his Jr. Career last year. Since re-joining the IHC on January 1st Michal went 20-3-2 with a 1.55 GAA, and a .945 save % combined stats regular season and playoffs more importantly he led the team to a final 4 appearance in the league playoffs.
"He instantly brought back maturity and stability to our locker room and to our line up – he was our rock that our team relayed on down the stretch." Added Kyrkostas
"Playing for the IHC over the last two years has helped me develop as a goalie and as a person. I would like to thank my family, Head Coach Tim Kyrkostas, Coach Peter Wallack and Coach Rob Day as well as Head Coach Jason Kilcoyne and the coaching staff at the NJ Rockets for all helping me achieve my dream. I am so excited to attend Saint Anselm College and play for Coach Tortorella and Coach Rocha next year." Proclaimed Michal Soustal
The IHC, NJ Rockets would like to congratulate Michal and his family and wish them the best of luck in Michal's next life chapter at Saint Anselm.